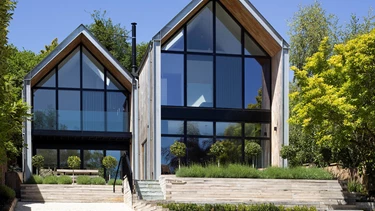 Triangular windows
Triangular windows, also known as gable windows, are a great way to add visual interest to your home.
Daylight optimization Made to measure Slim frame design
When imagining a window, most people immediately see a rectangle or square. However, an increasing focus on sunlight and quality of life are leading people to choose non-rectangular window shapes. Increasingly used in modern home design, a large triangular window can help to create a massive wall of light. They are commonly used in bedrooms combined with square or rectangle windows, in living rooms or at the entrance of the house to mimic your home's roofline and make a grand design statement.
Triangular windows are becoming more and more desirable in private houses, because they not only add great features and style to your home, but also ensure you can make the most use of all the space. Pitched roofs, attics and gables often become "lost" space which can be "reclaimed" by installing made to measure triangular windows. An irregularly shaped wall can suddenly be transformed into a great place to sit and read , or simply enjoy your new view, also increasing the indoor climate of your home. The unique shape of these windows also allows for interesting light patterns to be created within a space, adding to their aesthetic appeal.
Frequently asked questions
What are triangular windows called?
Many names can be used to identify windows with odd angles - triangle windows, slating windows, angled windows, gable windows or raked windows.
Can triangular windows open?
Yes, triangular windows can be manufactured as both fixed and opening windows. However, depending on the size, angle and position of the window there may be some limitations. If you are considering to install triangular windows, it is always a good idea to talk to a your local distributor first
Why choose a triangular window?
There are many reasons for considering the installation of triangular windows for your projects:
Adding a unique look to your home

Creating more usable space

Letting more natural light inside

Maximising your outside view

Complementing modern architecture