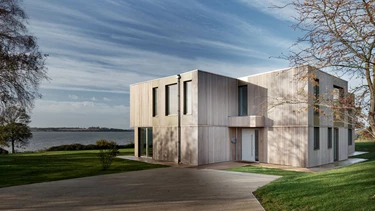 Low maintenance windows and doors
Throw the brush away
For many of homeowners, home maintenance is a time consuming hassle. Windows and doors are under constant attack from the elements. Wind, rain and extreme temperatures can cause them damage over time. How much windows and doors are affected by elements, depends on what materials are they made of, and the quality of painting and treatments used by the manufacturer.
Composite windows: the best of two worlds

If you are looking for hassle free windows, we have the solution for you. VELFAC composite aluminium / wood windows and doors are built with the highest quality materials and are designed to be low maintenance without compromising on energy efficiency.
Our windows and doors system features an external frame made of powder-coated aluminium, which won't need repainting for the lifetime of the unit and will resist even the harshest weather conditions.
The internal wood frame on the other side, with its highly insulating properties, can reduce your heating needs while also helping maintain a better indoor climate, saving potentially hundreds of pounds in energy bills.
In terms of maintenance, both external aluminium and internal pine frames only need regular cleaning with a solution of lukewarm water and mild detergent to be applied using a soft cloth or sponge, while moving parts only need to be cleaned and lubricated once a year.