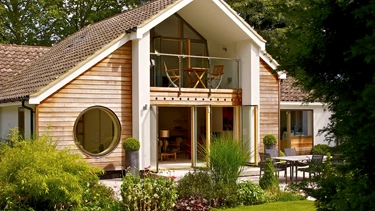 Round windows
Engineered for performance, designed for style.
Made to measure Multiple color options Low maintenance Min. 40y life expectancy
Round windows are a great design feature in any home, offering an attractive circular frame and a unique kerb appeal.
Sometimes referred to as portholes, circular or curved windows, round windows can completely transform any room, adding character and a dramatic effect to your project. VELFAC composite round windows are built with high quality materials, and thanks to their slim frame can work well pretty much anywhere – from a small bathroom porthole to a large centre piece in your living room.
Benefits of choosing VELFAC round windows
VELFAC round windows offer the same benefits of all VELFAC windows: beautiful design, excellent thermal efficiency and lifespan of 40 years minimum.
At VELFAC, every round window is made to measure, so you can choose the size, colours inside and out and also the glass options that suit style and vision. Made with warm wood on the inside and durable aluminium on the outside, our composite windows offer a beautiful, flexible solution without compromising on performance.
Visit a distributor showroom
If you are considering to install round windows, it is always a good idea to talk to a a distributor first. Fill the form available here, and we will get you in touch with a distributor in your area.
Frequently asked questions
Where are round windows installed?
When it comes to where round window can be installed, the only real limit is your imagination.
Traditionally found in churches or on boats, today round windows are used to add style and personality to any room of the house.
They work well as a standalone focal point or in combination with other windows shapes, adding plenty of character to bedrooms, bathrooms, kitchens, hallways, study rooms and stairs.
What is the purpose of a round window?
Round windows can give a unique appeal to your home and inspire calmness and creativity. Round windows can significantly impact the architecture and atmosphere of any room with playful and natural shapes - a great solution for those who think outside the box.
Why should I choose round windows from VELFAC?
VELFAC round windows offer many special benefits when it comes to aesthetics, features and performance. The VELFAC signature frame combines sleek, durable exterior aluminium with internal pine to deliver a hard-wearing, low maintenance contemporary finish inside and out, with both frame elements available in a range of colours and finishes.
VELFAC windows also require very little maintainance and have a life span of at least 40 years.
What sizes are available for round windows?
All VELFAC round windows are made to measure to ensure they fit perfectly your taste and needs. Whatever size of round window you need, we suggest for you to discuss your specific requirements with a distributor, who will be able to give you advice and help you realise your vision. Contact us at enquiries@dovista.com or ask for a no obligation quote to start your journey