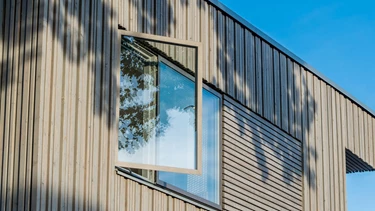 Rectangular windows
Rectangular windows are a popular choice for many homeowners and builders due to their elegant design and versatility. Thanks to their timeless appearance, they fit beautifully into a variety of architectural style homes, from modern to traditional.
Made to measure Low maintenance Daylight optimization Energy optimization
One of the key benefits of rectangular shaped windows is their simplicity and versatility. They have a clean uncluttered appearance that can enhance the aesthetics of any home. They are also easier to install, which can help to reduce construction costs and time.
Rectangular shaped windows come in a wide range of sizes, from small accent windows to large picture windows which makes them suitable for various applications, from providing natural light and ventilation to creating a focal point in a room.
Another benefit of rectangular shaped windows is the variety of opening functions in which they are available. Rectangular windows can easily be installed in any room of the house, including kitchen, living room, studies, bedrooms and insure smooth operation and aesthetic appeal.
Frequently asked questions
Why are rectangular windows so common?
There are a few reasons why rectangular windows are so popular; these include:
Ease of construction and operation

Easy to fit

Structural strength

They can catch more daylight compared to a square window of the same area.

Due to their regular shape, it is easier to combine more rectangular shaped windows together to create a window wall or large section of glass
What are the different types of rectangle windows?
What sizes are available for rectangular windows?
VELFAC windows are made to measure to ensure they fit perfectly your taste and needs, so they can be virtually manufactured in any size. Wheatear your are considering a small horizontal window or a large glass wall, please get in touch by filling the form available here, and we will get you in touch with a distributor local to you.