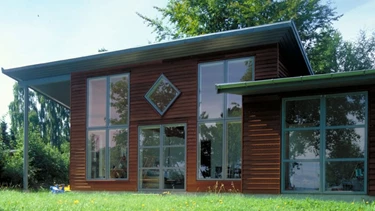 Curved and shaped windows
Windows for architectural impact.
Made to measure Multiple color options Opening or fixed Min. 40y life expectancy
A window does not have to be rectangular. You can make a big impression and add a dramatic effect to your home by installing different windows shapes.
Shaped windows are a fantastic design solution to really add personality and distinction to your home. One of the primary benefits of shaped windows is their aesthetic appeal. These windows can create a sense of elegance and sophistication that is not often found in standard rectangular windows. Shaped windows can be used to highlight certain architectural features of a building or to create a focal point in a room. For example, a circular window in a turret can create a stunning visual element, while a curved window (also called arched window) over a doorway can add great visual impact.
Another advantage of shaped windows is their ability to bring in more natural light. Because of their unique shape, they can often provide more light than traditional rectangular windows of the same size. This can help to brighten up a space and create a more inviting atmosphere. Additionally, shaped windows can be strategically placed to take advantage of natural light at different times of the day.
Most popular shaped windows
There is always more to windows than to improve the usability and efficiency your home. Installing shaped windows is the perfect way to increase your curb appeal. There are different types of windows that you can use in the construction of your house. The most popular are:
Frequently asked questions
What window shapes are better for my house?
Finding the best windows shapes for your home depends on the style of your house and the room layout. For example, smaller rectangular windows or windows with glazing bars, tend to suit an cottages and more traditional looking houses. Large – and potentially shaped windows – suit contemporary homes. You can also use shape windows to highlight some specific elements of your home: for example, a circular window in a turret can create a stunning visual element, while an arched window over a doorway can make a visual statement; also narrow tall vertical windows can be used to let more daylight into your property in any season.
Can you place a shaped window above a sliding or patio door?
Of course you can. You can give a look to recently completed projects that feature a combination of shaped windows and patio doors in our gallery.
Is there a limit to the size of a VELFAC shaped window?
Yes. Depending on what shape you choose, there may be some factors that can limit the size of your shaped windows: for example acute angles, height and location of the window, glass type, and so on. However, your distributor can help you find the right solutions to achieve your vision, for example combining together different size windows.
We recommend for you to get in touch to discuss your ideas early in the design process so that we can advise on the best way to achieve your vision.