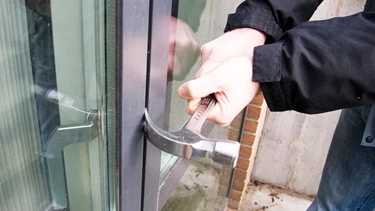 Secured by Design
New windows are a big investment and it is important that you know that the windows your choose offer the best protection possible. It's all about security by choosing windows that minimize the risk of uninvited guests.
Secured by Design (SBD) operates an accreditation scheme on behalf of the UK police officers for products or services that have met recognised security standards. Such products or services must be capable of deterring or preventing crime in a building and are known as being of a 'Police Preferred Specification'.
A number of VELFAC 200 products have been tested and certified to SBD performance standards.
Test method
The Secured by Design test (BS7950 or PAS 24 annex 3) comprises of the methods listed below:
To replicate forced entry using a tool such as a screwdriver, a lever is used to try and prise open the window both at the locks and fittings A 'burglar's tool kit' is used by a professional expert to try and force entry in under three minutes.


An attempt is made to remove the glass pane externally - as VELFAC 200 windows are internally glazed, with an internal glazing bead, external removal is impossible

A mechanical loading test is made using parallel and perpendicular loads to gain entry
Frequently asked questions
What is secure by design?
Secured by Design (SBD) is the official police security initiative that works to improve the security of buildings and their immediate surroundings.

SBD's product based accreditation scheme – the Police Preferred Specification - provides a recognised standard for all security windows and doors that can deter and reduce crime.
What are the secured by design standards?
To comply with Secured by Design standards, windows and doors need to resist physical attack by a casual or opportunist burglar by being sufficiently robust and fitted with appropriate hardware.

The testing process consists of attempted forced entry using common burglary tools, plus a mechanical loading of the windows and door to gain entry.
Are the requirements of Part Q and Secured by Design the same?
No, whilst the technical standards within Approved Document Q and SBD are the same, the SBD requirements call for all door and window products to be fully certificated.
Is Secured by Design mandatory?
While not mandatory, you should consider choosing Secured By Design windows and doors, because the crime reduction benefits are proven and can give you additional peace of mind. Learn more on https://www.securedbydesign.com/
What is the benefit of using Secured by Design doors and windows ?
According to Secured By Design's website, SBD buildings (those using products and materials that meet Secure by Design Standards) are up to 75% less likely to be burgled and show a reduction of 25% in criminal damage.
VELFAC secured by design windows and doors
The following window types have passed the PAS 24 annex 3 tests (BS7950) and are third party certified for Secured by Design:
VELFAC 201: Sidehung opening window - double and triple glazing


VELFAC 210: Fixed casement - double and triple glazing


VELFAC 212: Topguided window - double and triple glazing


VELFAC 231ES Energy (VELFAC casement door, when used in accessible locations) - triple glazing


VELFAC Ribo wood/aluminium Security Door
Want to know more?
Contact our sales support team for product and technical assistance.