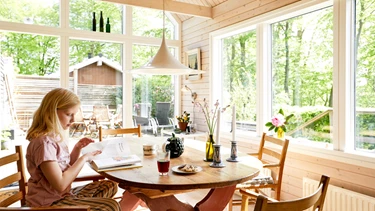 VELFAC commitment to the environment
Making windows part of the solution
Whether you are planning to replace old windows or looking for the best glazing for your dream home, making environmentally-minded choices allows you not only to protect the planet but also to save money on your energy bills.
Windows and materials have specific ratings based on their sustainability and energy efficiency. VELFAC windows are not only built with outstanding quality, but they are also made with sustainable materials to help lower energy usage and costs.

VELFAC provides product specific EPDs to support accurate calculations of the carbon footprint of your project and to help you compare the different options on the market.
Responsibly sourced materials
An environmentally aware approach embraces processes and materials used to manufacture windows and doors. For VELFAC windows, this includes:
All wood comes from sustainable sources and is FSC® certified
All wood treatments are water based
Approximately 30% of the aluminium used to produce VELFAC profiles comes from recycled sources, and 95% is produced using hydro-electricity. VELFAC suppliers have accredited Environmental Management and Audit Systems and are ISO14001 accredited.
VELFAC glass suppliers run detailed environmental management systems.
Frequently asked questions
How to choose sustainable windows and doors?
Sustainability is increasingly becoming an important selling point for windows and doors, with demand growing for units manufactured from natural or recyclable materials. Windows are an important component in sustainable building design, and can dramatically reduce heating and artificial lighting need in your home, reducing the impact on the environment.
What windows are most eco-friendly?
Aluminium is one of the most eco friendly material for windows, because it is durable and recyclable; however thermal efficiency can be an issue with aluminium windows. Timber on the other side, is a naturally insulating material and is also a good sustainable choice, but requires manutention.
VELFAC windows combine external aluminium and internal timber in their frame, to provide a flexible, thermal efficient and eco friendly solution for your project.
How can I be sure I'm purchasing eco friendly windows?
To make sure you are buying sustainable windows and doors, choose a supplier who can provide evidence of an environmental responsible approach.
What does "greenwashing" mean and how to spot it?
Greenwashing is where companies make false or misleading statements about their environmental credentials, whether unintentionally or as a deliberate marketing strategy. It's a deceitful advertising method to gain favour with consumers who choose to support businesses that care about bettering the planet. An example of greenwashing is also when a company promote his services and products as "green" without having any proof or environmental credential to support their statements.
All VELFAC products and processes are thoroughly tested and quality assured. See our certifications, marks and memberships.
What is an EPD and how to read it?
An Environmental Product Declaration (EPD) is a document in which you can find data about the environmental impact of a certain building material in each stage of their product life cycle: Production, construction, end of life and the potential for reuse, recovery or recycling.
The content you'll find in an EPD varies depending on the product category, but within a category, the set-up of an EPD will always be the same. This makes it easy to compare similar products, understand the environmental impact they have and make a conscious choice. As you can imagine, it's really important to look at all the life stages a product goes through to define how sustainable it is. A product might be produced in a very sustainable way, but if it will only last for a short time or if it's impossible to reuse or to recycle afterwards, then it's not very sustainable in the end.
As a voluntary declaration of the life-cycle environmental impact, having an EPD for a product does not automatically imply that the declared product is environmentally superior to alternatives. On the other hand, companies who are not keen of showing their EPD reports may have some reasons behind their choice.