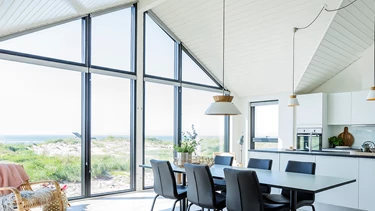 Floor to ceiling windows
Add the WOW factor to your project by installing floor to ceiling windows.
More natural daylight Slim frame Excellent insulation
Full height windows, also known as floor to ceiling windows, are large windows that extend from the floor of a room to its ceiling, providing unobstructed views of the surrounding environment and allowing ample natural light to enter the space. This type of windows have become one of the most popular features in modern homes in the UK for a number of different reasons.
Large windows deliver an impressive architectural statement while bringing more natural light into the interior, thereby improving your house energy performance.
VELFAC composite floor to ceiling windows are often used in stylish, full-height glazing: our large glass units combine excellent insulation with a contemporary design, while meeting all the requirements of UK building regulations. The distinctive slim frame of the VELFAC window systems creates an elegant exterior finish also increasing the levels of natural light and 'free' heat entering your house.
Existing openings can often be enlarged to accommodate floor to ceiling windows. This can completely transform darker rooms in your house and enhancing a stunning view.
Full height floor to ceiling windows can be combined with sliding or bifolding doors to create beautiful seamless view of the outside.
Frequently asked questions
What are floor to ceiling windows called?
We talk about floor to ceiling windows when windows are placed between the floor and ceiling slabs. These are commonly also known as 'glazed walls' or 'window walls'.
What are the benefits of installing floor to ceiling windows?
The main advantage of floor to ceiling windows is that they can be a great design feature that allows for maximum light entering the house. With large window spaces you can make the most of any views and make any space instantly feel brighter and larger.
How much do floor to ceiling windows cost?
The cost of your floor to ceiling windows will depend on the size of the window wall, on the number of windows that open, the accessories you specify and your choice of glazing. The best way to find out the cost of floor to ceiling windows is to get in touch with your local distributor and ask for a quote.
Is it difficult to install floor to ceiling windows?
The installation of floor to ceiling windows is no more difficult than installing standard size windows, however you will need to consider these windows are larger therefore they can be quite heavy and the use of mechanical lifting equipment might be required. To discuss your specific requirements and receive expert advice regarding installation of floor to ceiling windows, we suggest for you to get in touch as early as possible in your project planning stage.
In which room should I install floor to ceiling windows?
VELFAC Floor to ceiling windows can enhance any room in your house. They can flood your living area with a great amount of natural light, create a stunning entrance or improve the quality of the indoor climate in your bedroom. If you are planning a house extension then thermal efficiency would be even more important , therefore a combination of VELFAC large windows and doors would be ideal to make sure you can enjoy your new living space all year around.
Do VELFAC floor to ceiling windows comply with Building regulations?
VELFAC composite windows, doors and patio doors have already completed an impressive testing programme to ensure they meet all necessary building regulations. With a wealth of test data ready for review, VELFAC windows and doors ensures a speedy sign off from Building Control & Construction warranty Suppliers (NHBC, LABC, BLP, Premier)