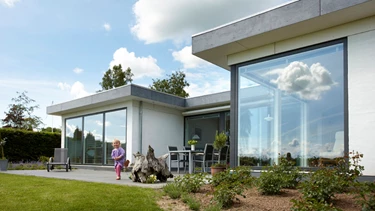 Corner windows
Enjoy panoramic views with a glass to glass corner window
Daylight optimization Made to measure Slim frame design Min. 40y life expectancy
One of the fastest growing glazing trends and the ultimate in contemporary appearance, a glass corner window is a single unit comprised of two or more sashes that meet at a corner and span both sides of a room, giving a panoramic view. One of the primary benefits of corner windows is their ability to maximize natural light and views. With two walls of windows, a corner window can bring in a significant amount of light and make a space feel bright and airy. Additionally, corner windows can provide unobstructed views of the surrounding environment, whether it's a bustling city skyline or a serene natural landscape.
Corner windows are often used to create a sense of openness and connection with the outdoors while allowing maximum light to enter the house and can be used as an architectural feature, because they add aesthetics to the interior space creating bright and luminous areas in every room .
Another benefit of corner windows is their ability to enhance the overall aesthetic of any home. Corner windows are a distinctive feature that can create a sense of drama and interest in an otherwise plain façade. They can also help to break up the monotony of a flat building surface, adding depth and dimension to the design.
VELFAC glass corner windows can be configured alongside VELFAC opening windows and patio doors to create a focal point and maximise the light that enters the room.
Benefits of corner windows
Ensure unobstructed panoramic views of the outdoor
Let more light into the house
Can be coupled with opening windows or sliding doors or other glazed doors to create beautiful architectural features
Frequently asked questions
Where do you use corner windows?
Glass to glass corner windows are suitable for any space, but the best places to install a corner window are the living room, study, and garden room.
Why do houses have corner windows?
The corner window opens up the interiors to the surrounding landscape by providing a panoramic view. Therefore, it is ideal for a house with pleasant surroundings. It also adds aesthetics of the interior space. The corner glass window is an effective way to bring light to the interior spaces of the house.
Are corner windows structural?
No. As the glass itself doesn't have any structural properties, this style of window requires a special structural frame that can accommodate a large rough opening with no corner support.