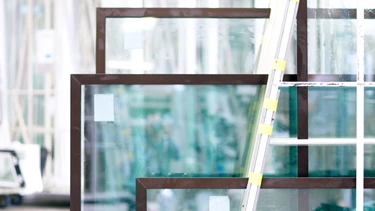 Deliveries and packing for domestic projects
Your distributor will arrange the delivery of your VELFAC windows and doors with you
Manufacture and delivery of your windows and doors typically takes between 9 and 12 weeks, depending on project complexity.

Your distributor will get in contact with you directly to discuss the most suitable delivery date and time.

To make sure the delivery happens smoothly, please make sure to mention any specific requirements you have, including any restricted access to your property.
Packing
Units are always packed on the pallet with the weight distributed evenly. This is to provide an even pressure on the pallet ensuring that the pallet will not lean when being lifted. For more information, please contact your distributor.
Receipt of goods
The responsibility for delivered VELFAC products is transferred to the customer as soon as the elements are unloaded. Equipment and methods applied during unloading and handling of VELFAC elements must not inflict any damage, and the protective wrapping must not be removed until installation of the elements.

When the goods have been unloaded, you must check the contents against the delivery note and ensure there are no transport damages. If the contents are not correct or any transport damage has occurred, you must make a note of this on the delivery note, and inform your distributor as soon as possible.

Hidden damages (not visible upon delivery, but only when unpacking the pallet) must be reported to your distributor within 7 days from when the delivery took place. Do not remove the windows from the pallet before contacting your distributor and always remember to take photos of the damages as well.

Please do not dispose of any damaged items without the prior consent of VELFAC or your distributor. Failure to follow these procedures will harm your ability to receive replacement goods free of charge.


Correct storage
Improper storage that results in elements being exposed to moisture for any period, may damage the surface of the wood components. Therefore, window and door elements must be protected properly against moisture (rain and snow), direct sunlight, dust, and other molestation.
To preserve the VELFAC Product Warranty the following storage instructions must be observed:
Indoor storage on a level standing is recommended.


If stored outside, the window and door elements must be placed on a firm and level standing and the top and sides of the pallets must be covered by non-transparent, waterproof material properly secured against bad weather conditions.


There must be sufficient clearance under the pallet to provide free air circulation. Please note that the factory packaging is intended to protect the elements during transportation from the factory to the building site only.
Not withstanding the above precautions, VELFAC elements should be stored outside for a short period only.