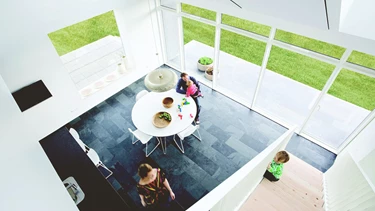 Daylight optimization
Daylight is essential for our health and wellbeing. Hormones, vitamins and white blood cells are stimulated by light, and contribute to an healthier body. As well as our physical wellbeing, daylight can affect our mood as it causes the body to produce serotonin, also called the 'happiness hormone'.
Daylight is an amazing, free, natural resource and essential for our health and wellbeing – but most of us spend around 90 per cent of our time indoors. How can we increase our exposure to natural light? One solution is to bring more light into the home.


A refurbishment or new build project is real opportunity to consider how to place windows and doors to maximise natural light.
Benefits of letting more daylight into your home
Improves physical and mental wellbeing
Reduce the need of artificial lights
Makes smaller rooms look larger
Allows free heat from the sun into your home
How to get more light in your home
If you are renovating, try to change the size or the position of the windows in your rooms – south facing windows usually get much more light in.


Sliding doors and double patio doors connect house and garden, improving the amount of light.


Choose white or light coloured windows and paint the walls in light colours – this reflects the sunlight into the room.


Choose windows and doors with a large proportion of glass - remember that bars can block the view and some of the light.