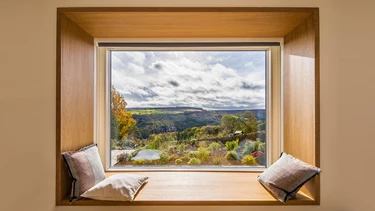 Eco-friendly windows and doors
Whether you are planning to buy replacement windows or new windows for your dream home, making environmentally-minded choices for windows and doors allows you not only to protect the planet but also to save money on your energy bills.
Slim frame Daylight optimization Low maintenance Thermal efficient Made to measure
In an average home, up to 40% of its heat loss is through doors and windows so it's important to understand the difference between the different options on the market, in order to make an informed, responsible decision.
Windows and materials have specific ratings based on their sustainability and energy efficiency. Eco-friendly windows are not only built with outstanding quality, but they are also made with sustainable materials to help lower energy usage and costs.
At VELFAC, we recognise the need to limit our impact on the environment, and this is reflected in the choice of materials and manufacturing processes that are employed to produce our windows and doors range.
High performance windows and doors

Energy efficiency it is not only about double glazing or triple glazing. From the quality and design of the seals to the thermal performance of the frame, each part of a window or door contributes to its overall insulation and quality of performance.
VELFAC wood aluminium windows are available in both double glazing and triple glazing. Our windows use low-e glazed units with argon filled cavities and low-e coatings as standard, and U-values as low as 0.80 W/m²K are achievable. We also provide documentary evidence in the form of a data sheet, detailing individual U-values for each window unit, and an area weighted U-value for every project.


The VELFAC 54mm frame profile means that we use less wood and aluminium in the frame components than some of our competitors, and the slim sightlines allow up to 15% more light to enter the interior, providing a better daylight contribution and a reduced need of artificial light in your house.
Responsibly sourced materials

An environmentally - aware approach embraces processes and materials used to manufacture windows and doors. For VELFAC windows, this includes:
All wood comes from sustainable sources and is FSC® certified
All wood treatments are water based
A VELFAC window unit is 93% re-usable
Approximately 30% of the aluminium used to produce VELFAC profiles comes from recycled sources, and 95% is produced using hydro-electricity. VELFAC suppliers have accredited Environmental Management and Audit Systems and are ISO14001 accredited.
VELFAC glass suppliers run detailed environmental management systems.
Frequently asked questions
Can windows be sustainable?
Sustainability is increasingly becoming an important selling point for windows and doors, with demand growing for units manufactured from natural or recyclable materials. Windows are an important component in sustainable building design, and can dramatically reduce heating and artificial lighting need in your home, reducing the impact on the environment.
What windows are most eco-friendly?
Aluminium is one of the most eco friendly material for windows, because is durable and recyclable; however thermal efficiency can be an issue with aluminium windows. Timber on the other side, is a naturally insulating material and is also a good sustainable choice, but requires manutention. VELFAC windows combine external aluminium and internal timber in their frame, to provide a flexible, thermal efficient and eco friendly solution for your project
How can I be sure I'm purchasing eco friendly windows?
To make sure you are buying sustainable windows and doors, firstly choose a supplier who can provide 'cradle to grave' evidence of an environmental responsible approach.
With regards of the windows and doors themselves, look for 3 key factors:
U Value (thermal efficiency) – The U value tests the heat loss from the windows and is measured by how much heat is transferred from one side of the window to the other. The lower the U value, the warmer the home because less heat loss takes place.
Solar Gain (G Value) – Homeowners want to use as much natural energy as possible from sunlight, rather than paying to heat the house. The G value measures how much heat from the sun's rays passes through the window.


Air Leakage (L Value) – Air leakage is the technical term for draughts, so the L value measures how airtight windows are. If there is a weak point around the window, this will be spotted. You want to aim for an L value of 0 for the most energy efficient window.


Learn more about Energy efficiency features for VELFAC windows and doors