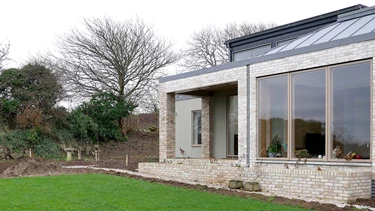 Unique casement windows
VELFAC is proud to offer a wide range of highly-durable, economically-friendly casement windows that will complement both old-fashioned and contemporary structures.
Slim frame Daylight optimization Low maintenance Thermal efficient Made to measure
VELFAC has windows for all types of house. And you can have them largely as you want: Sidehung, reversible or tophung - as a reversible window or fixed unit, which can be neither opened nor closed. To name just a few key variants.

Windows which open differently can be fitted next to one another – and you can't even see the difference from the outside. Size and shape are entirely up to you – VELFAC has all manner of shapes – round, square or even triangular…

Of course, VELFAC is supplied with or without a lock, child-proof safety catches, and special handles, which makes the windows easier to operate.

Our casement windows are hinged at the sides, making them easy to open and can be tailor-made to meet your wants, tastes and needs. We understand that every property is different, which is why we offer maximum flexibility and strive to create unique designs that radiate elegance and sophistication.

All of the windows we supply have been accredited to meet several national and European standards and are available at a competitive price – go ahead and explore our exquisite selection.

As with all VELFAC products, our casement windows have been created to increase customers' quality of life and to be as efficient as possible. They're built to provide wonderful views of the outdoors and the thin frames let as much natural light in as possible – making the most of the sun's natural energy.


Thanks to the aluminum exterior structure of all our casement windows, they also require little maintenance and are an ideal purchase for any household or business. The economically sourced wood from northern-Europe provides a strong frame while the aluminium sash offers maximum protection from the elements – giving each product a shelf life of around forty years.