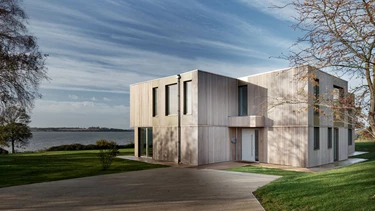 Scandinavian Windows
Exclusively designed Scandinavian windows.
Slim frame Daylight optimization Low maintenance Thermal efficient Made to measure
VELFAC supplies a wide range of high-quality Scandinavian windows that are made from pine. The wood is sustainably sourced from Northern-European forests and is of the finest-quality – as the trees are left to mature slowly. All surfaces are treated with 100 per cent water-based acrylic paint/lacquer and the edges and joints are smooth to the touch.

As with all VELFAC products, our Scandinavian windows are of a composite structure, meaning they're made from a combination of materials. This means you can enjoy a natural wood inner frame fully integrated with an outer aluminium sash. Such a unique design allows for easy maintenance and ensures every window stays in optimum condition for longer periods of time.
VELFAC offers a range of replacement windows that will complement your property.

VELFAC Scandinavian windows can also be designed to meet your wants, tastes and needs thanks to our exquisite bespoke service. VELFAC are dedicated to meeting all requirements and will offer you the help and advice needed to create a wonderfully decorate and stylish property.
Take a look at our exquisite product range today and imagine a set of VELFAC windows brightening up your property.