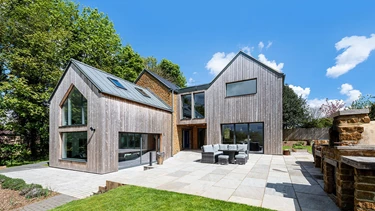 Windows with contemporary design
What is modern style? Its core principles include simplicity, minimalism and practicality. In windows this means straight lines, slim frames, natural textures and dark or neutral colors.
Slim frame Daylight optimization Low maintenance Thermal efficient Made to measure
Whether you want to increase the kerb appeal of your house, or make it more energy efficient, VELFAC modern windows bring the best of two worlds - the warmth of internal wood and the durability and low maintenance of external aluminium. Our windows composite construction makes them a great alternative to wood or aluminium windows and gives a lot of benefits compared to modern upvc windows. Available in double or triple glazing, VELFAC composite windows are highly energy efficient, allowing you to reduce your energy bills and feature an increased glass area thanks to the slim frame profile.
VELFAC modern windows can also be created in many different shapes. As a result, you can specify windows that suits your house style and architecture or create a feature by combining different shapes and sizes.
Modern windows for your home
Windows and doors retain a uniform appearance, whether they open or not, further enhancing the uncluttered feel optimised by the contemporary design. Not only will you experience more daylight, your house will also have a timeless appearance that you can enjoy year after year.
All VELFAC windows and doors are tailor made so you can specify size and shape of your new windows, mix and match hundreds of frame colours, and choose from a variety of handle functions and surface finishes.
VELFAC windows offer excellent value for money and are often more cost effective compared with aluminium windows. Choosing new wood/aluminium composite windows over aluminium only or wood only versions, you will bring many more benefits to your house in terms of design,security and energy efficiency.
To learn more about different windows materials click here.
VELFAC 200
The VELFAC 200 window system is defined by elegant slim lines and complements contemporary and modern designs.


Our uniformed slim frames throughout enhances the uncluttered, modern aesthetic.


VELFAC 200 is available with both as double glazed and triple glazing.



Frequently asked questions
What types of windows are there?
VELFAC windows can be manufactured in many different opening functions and with or without glazing bars. Our windows can also be created in different shapes, to increase the architectural impact of your project.
See more
What type of windows do modern houses have?
Casement windows tend to be more modern and contemporary. They have clean lines and an elegant look. However, a casement window from VELFAC can take on a traditional style if you choose to fit glazing bars. If you are in doubt on what style of windows would suit your modern house better, explore our gallery to get some inspiration.
How to fit a new window?
We always recommend using a VELFAC approved Joiner to fit your new windows and doors. However, If you wish to install your windows on your own,
here is a collection of guides and videos
to help your through the process.
If I install windows and doors myself, does this effect my product warranty?
Your product warranty won't be affected If you decide to install your windows yourself. However if you decide to use an approved joiner for the installation, the installation will also be covered by 6 years installation warranty provided by the joiner.
Pros and cons of stained glass?
Stained glass windows can help provide more privacy, however the amount of light coming from a window will be reduced, and the room could appear darker and less spacious. To see all VELFAC glazing options, visit our
product database
.