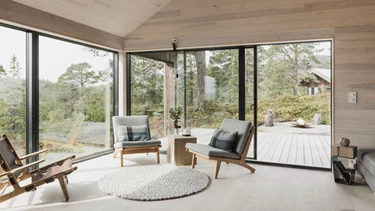 Large windows
Large windows from VELFAC are used increasingly in both domestic and commercial projects to add significant architectural impact, to create features such as glazed entrance halls or stairwells, and to improve energy efficiency by maximising natural daylight and increasing solar gain.
The signature VELFAC frame is ideal for large window design. Combining external aluminium with internal pine, the slim frame profile creates an impressive expanse of glass, while low energy features deliver excellent insulation and protection from excessive solar heat.
VELFAC composite glazing is also the perfect solution if large windows are part of a wider installation. As every VELFAC unit is made to measure, and in the same style, VELFAC glazing can be used throughout a property to deliver a distinctive, contemporary finish, inside and out.
Frequently asked questions
How large can a window be?
VELFAC delivers some of the largest functioning window units on the market, designed to maximise natural light and provide real architectural impact – smaller units can be combined to create seamless screens and window walls with uniform external sightlines.
Why choose VELFAC windows?
VELFAC windows are specified for the system's slim and uniform frames, contemporary style and exceptional thermal performance. All VELFAC windows and doors are tailor made so they can be designed to meet your tastes and needs.