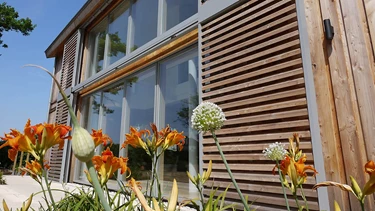 Grey wood / Aluminium windows
Aluminium windows are a stylish window choice for many Grand design homes and modern buildings for a number of reasons. With a larger possible maximum size than windows made from timber and uPVC , slim sightlines, and exceptional structural strength, aluminium windows frames can be used to give a great view of the surroundings and a beautiful modern style to your home.
Slim frame Daylight optimization Low maintenance Thermal efficient Made to measure
Double glazing aluminium windows are a popular alternative to uPVC windows due to their durability and wide choice of colours.
When choosing windows for your project however, there is more to consider other than aesthetics and durability . Aluminium windows are less energy efficient compared to wood windows for example, so your energy bills may be higher due to an increased heat loss.
In order to provide the best solution for home owners, VELFAC composite wood / aluminium windows combine the best of two worlds : aluminium on the outside and wood on the inside. The composite window construction of the VELFAC frame allows you to enjoy exceptional thermal efficiency without compromising on style.
Bespoke wood aluminium windows from VELFAC
What is better tham aluminium windows? Composite wood / aluminium windows of course!
Choosing composite windows will provide you all the benefits of the aluminium windows - such as low maintenance, sleek design and colour choice - while keeping your home warm and secure, thanks to the internal wood.
Each window and door is made to measure with high quality materials: you can choose size, shape, glass type and opening functions, and also accessories like handles , locks or trickle vents to improve ventilation. Available in both double glazing or triple glazing, wood aluminium casement windows and doors from VELFAC will let more light into your home.
VELFAC composite windows colour options.
Grey is the new black' in window design, with anthracite grey aluminium windows being one of the most "on trend" choices for modern homes, delivering style and sleek design.
Grey is a popular choice for VELFAC glazing also; the external aluminium can be polyester powder coated in anthracite grey or can feature a metallic or anodised finish, while inner pine can be painted or varnished to enhance the natural beauty of wood.
And if you change your mind, VELFAC offers a wide range of additional colours and finishes for both interior and exterior frames, adding to the versatility of the VELFAC window design.
Get inspired by other people choices for grey aluminium windows frames - visit our gallery