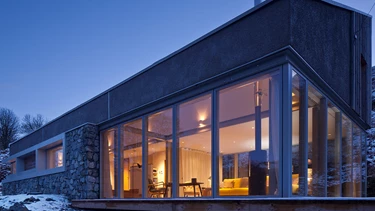 Aluminium window frames for low maintenance
VELFAC composite glazing represents a high performance, low energy, stylish alternative to all aluminium or all timber windows by combining an aluminium exterior with an inner pine frame to create a window unit that is durable and beautiful.
Slim frame Daylight optimization Low maintenance Thermal efficient Made to measure
By using external aluminium window frames, VELFAC windows offer exceptional durability, slim sightlines and a wide range of colours and finishes to complement and enhance the exterior. On the other side, the inner pine can deliver warm, natural finish welcomed by home owners. Available in a range of paints, stains and varnishes, this hard wearing pine frame insures thermal efficiency also offers real design potential when creating interior spaces.
VELFAC composite glazing delivers all the benefits of both timber and aluminium frame windows - offering a contemporary, energy efficient, stylish alternative with the potential to deliver significant architectural impact.
Composite window frame
External powder coated aluminium - slim sightlines and durable
Internal timber - highly insulating and energy efficient
Double glazing as standard with the option of triple glazing
Bespoke windows and doors to add your personal touch
Different colours and finishes available
Timeless design to complement both traditional and modern housing style
Slim frames and uniform sightlines deliver design versatility
The VELFAC slim frame wood aluminium windows delivers a seamless exterior finish as all window and door units – fixed, opening and motorised – are identical in appearance. The slim sash and frame also allows even the smallest window to maximise natural light, further enhancing already impressive energy performance.
VELFAC glazing can create impressive, uniform facades, ribbon windows and window blocks; the flat, seamless finish is created by an in-line frame design which places the opening frame element directly in front of the fixed frame to create a 'floating sash', a finish further emphasised by a recessed weather seal.
Frequently asked questions
Why is aluminium used to make window frames?
Aluminium windows are very low maintenance and offer a long performance. Design versatility is a hallmark of aluminium-framed window systems, making them preferred option for contemporary homes. However, insulation can be an issue – optimal performance can be achieved by using composite windows system (aluminium outside and wood inside).
Are Aluminium Windows better than uPVC windows?
We believe both solutions have their pros and cons. Upvc windows are certainly the cheapest solution when planning to replacing or install new windows. Aluminium windows are much stronger and durable than uPVC or timber windows - and require little to no maintenance; Also, compared wood and upvc windows, aluminium windows feature a slimline design that let more light in your home. On the other hand aluminium is not a great insulating material, especially compared to timber windows. Composite windows like VELFAC provide the best of two worlds: made of aluminium on the outside and wood on the inside, our composite frame windows can last up to 60 years and can really make the difference in reducing your energy bills.
How to stop condensation on aluminium window frames?
The key to preventing condensation is to control humidity and temperature. To stop condensation we suggest to increase ventilation by opening windows or installing windows with vents already included in the frame.
Read more here