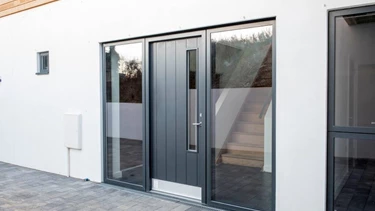 Aluminium doors
For home builders or specifiers looking for aluminium external doors, the VELFAC composite door offers a real alternative.
Combining an aluminium exterior with internal pine, the door exploits aluminium's durability and significant design potential to create a hard wearing, sleek and contemporary door, one which also uses pine to bring a softer finish into internal spaces. Door designs include solid, partly glazed or fully glazed options, and both aluminium and pine elements are available in an impressive range of colours and finishes.
Security is also key. VELFAC aluminium and pine doors have been awarded Secured by Design accreditation from the UK Police in recognition of a range of features designed to maximise safety and security, including a strong door construction, multi-point locking, and the use of external glazing beads to prevent glass removal from outside.