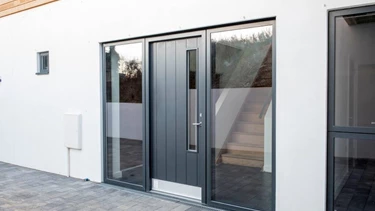 Composite front doors
VELFAC composite glazing offers a high performance, stylish alternative to aluminium windows and doors.
Featuring external aluminium framing and internal pine, VELFAC doors and windows offer contemporary, energy efficient glazing options for both private and commercial projects, from single windows to window walling, including external, patio and balcony doors.
The VELFAC signature frame combines sleek, durable exterior aluminium with internal pine to deliver a hard-wearing, low maintenance contemporary finish iniside and out, with both frame elements available in a range of colours and finishes. Add exceptional energy efficiency, and impeccable environmental credentials, and VELFAC windows and doors offer an impressive range of benefits, making VELFAC the ideal alternative to all-aluminium or timber glazing systems.