Deliveries and packing for commercial projects
All you need to know to ensure a smooth delivery of VELFAC windows and doors
In order to ensure that your delivery arrives as planned, please consider the following:
Is it possible for a 13.6m lorry to reach the desired address, or will you need a smaller delivery vehicle?


Do you have a designated area where the lorry can be off-loaded?


How will you off-load the lorry?


Do you have a forklift on site, or will you require a lorry with tail-lift or a HIAB crane?
Packing
Units are always packed on the pallet with the weight distributed evenly. This is to provide an even pressure on the pallet ensuring that the pallet will not lean when being lifted.
MDF and/or wooden slats are used to brace the windows.


Edge protection is provided for the outermost units, and transparent protective corners are mounted on all units on the pallet in order to prevent friction damage during transit.


Pallets are wrapped in a clear protective film, wrapped from the base upwards to prevent the ingress of moisture.


A double layer of film covers the top of the pallet: this layer protects against dust only, it is not intended to be fully waterproof.
Delivery options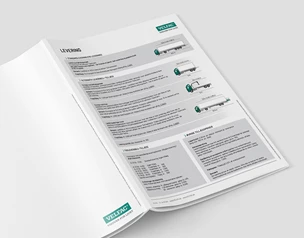 Delivery options
See your options for delivery.
Delivery schedule
If you wish to schedule your delivery over multiple locations and/or time, we can arrange this for you. Please let us know which items you want delivered and when. The delivery plan can also be combined with a package plan.

Packing plan
If you want the individual shipment divided according to where on the construction site the assembly is to take place (e.g. north or south facade, 1st or 2nd floor, etc.), you can have the windows marked and packed accordingly for an additional price. For more information regarding this service, please contact our team.


Receipt of goods
The responsibility for delivered VELFAC products is transferred to the customer as soon as the elements are unloaded. Equipment and methods applied during unloading and handling of VELFAC elements must not inflict any damage, and the protective wrapping must not be removed until installation of the elements.

When the goods have been unloaded, you must check the contents against the delivery note and ensure there are no transport damages. If the contents are not correct or any transport damage has occurred, you must make a note of this on the delivery note, and inform VELFAC as soon as possible by filling the form available here.

Hidden damages (not visible upon delivery, but only when unpacking the pallet) must be reported to VELFAC within 7 days from delivery.

Do not remove the windows from the pallet before contacting VELFAC and always remember to take photos of the damages as well.


When using a VELFAC Approved Installer
If you are using a VELFAC Approved Installer, they will provide this service as part of their standard package.

Please do not dispose of any damaged items without the prior consent of VELFAC LTD. Failure to follow these procedures will harm your ability to receive replacement goods free of charge.

A VELFAC Approved Joiner can provide this service as part of their package.

Please do not dispose of any damaged items without the prior consent of VELFAC. Failure to follow these procedures will harm your ability to receive replacement goods free of charge.
Correct storage
Improper storage that results in elements being exposed to moisture for any period, may damage the surface of the wood components. Therefore, window and door elements must be protected properly against moisture (rain and snow), direct sunlight, dust, and other molestation.

To preserve the VELFAC Product warranty the following storage instructions must be observed:
Indoor storage on a level standing is recommended.


If stored outside, the window and door elements must be placed on a firmand level standing and the top and sides of the pallets must be coveredby non-transparent, waterproof material properly secured against badweather conditions.


There must be sufficient clearance under the pallet to provide free air circulation. Please note that the factory packaging is intended to protect the elements during transportation from the factory to the building site only.
Notwithstanding the above precautions, VELFAC elements should be stored outside for a short period only.